I am so excited to be a neighborhood this year where we may actually get real trick-or-treaters. I love seeing the little ones in their cute costumes!
I thought I'd share with you my Top Ten List for Halloween 2012 of SILLY, CRAZY, RIDICULOUS and plain HILARIOUS kid's Halloween Costumes.
10. This little tree, car freshener baby just kills me! I have seen it for a few years now I LOVE it!
9. Ok, dressing your 5 year old like a pimp, so not cool! While I love me a good pimp adult costume, seriously parents how do you explain to your child what they are dressed as? Yikes.
8. Ok so this little baby girl is the cutest but her parents have her dressed as Hooters girl. Such high expectations and low common sense. Oy vay!
7. Dressing your child like a marijuana leaf...need I say more.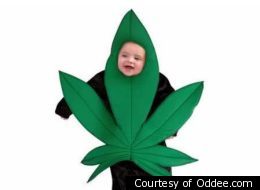 6. Ok, I busted a gut when I saw this turkey costume! Is this not the most hilarious baby costume. I love it!
5. Ok, I had no idea Oscar the Grouch could be so stinking adorable. The kid in the trash can makes it hilarious although the kid doesn't look too thrilled about it at all!
4. When I thought of making this list, this costume had to be in my top 5! This Up! Costume (little boy with glasses, a walker and balloons) stole my heart! This is adorable and would so be my kid's costume...
3. Maybe because I'm hungry or maybe because this child dressed like a hamburger and dog like a hotdog made me laugh. I think this is pretty creative and pretty hilarious. This will make a great picture to whip out when this kid is in college.
2. Ok, when kids are dressed up like famous adults, it makes me giggle, I'm not gonna lie. When I saw this Donal Trump baby, full comb over and all, I couldn't resist, it just had to be on my list.
1. And number one on my list and Worst Parent of the Year award goes to...the parents that dressed their child up like a pack of Marlboro Cigarettes...
Sigh...
Happy Halloween Everyone!
:)